Hello Friends!
It feels like it's been forever since I wrote you all last. And I mean, it kind of has. Well, it's been about a month, which, for a college student, is basically forever.
I want to talk a little bit about how I'm adjusting to a "new" life. What do I mean by that? Let me explain. I've mentioned in previous blogs that I was going to Argentina in January over Christmas break, and, with a little bit of critical thinking, I'm sure you can connect the dots and figure out that my trip has come and gone since I last wrote a post. And let me just say, wow. Wow wow wow wow wow. God is so good you guys. As I mentioned before, I spent most of January traveling with five Biola guys to the Patagonia mountains in Argentina to do hiking ministry to people who were backpacking and traveling there as well. There is so much I could say about the trip, so many stories I could share, but the one thing I want to say is just how faithful our glorious God is. I've always understood that God is faithful to put us where we need to be in life, faithful in the big picture situations, but I never truly understood how faithful He is in the small, daily life things until this trip.
At the beginning of this post, I mentioned how I have been adjusting to a "new" life. About two weeks into the three-and-a-half-week long trip, I decided to take a huge step in my walk with God and get baptized. Technically, I was baptized when I was really young, but it was more of a family decision than my own. When I started really walking with God about three years ago, I was hesitant to be baptized again. My pride was in the way for a while as I told myself that if I got baptized now, people would question if I was actually walking with God in the first place. But, after a very humbling first semester of college, I finally got to the place where I was fully confident in outwardly expressing the inward decision that I made to follow my Savior and my God for the rest of my life. So, this "new" life I am adjusting to is the life that I symbolically have after being submersed in the water, symbolizing Christ's death, and being raised out of the water, symbolizing Christ's resurrection. In Him I am a new creation, and I am living fully in that identity.
Here's a picture from my baptism: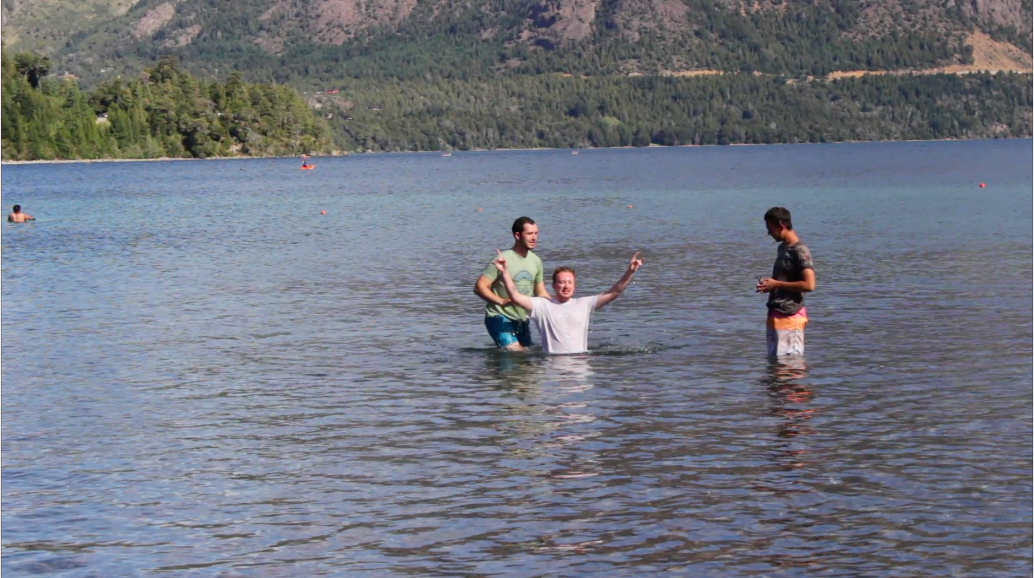 Ever since then I have been adjusting to this "new" life. Even though I am still walking with God, I have seen a noticeable change in my relationship with Him. I think when you take a major step of faith for God, you really have to completely rely on Him. Just like Peter had to trust Jesus as he stepped out of the boat, we have to trust Jesus when we say yes to walking upon the waters of life. It might be scary at times, it might require us to say no to our pride as we say follow Christ, but, in the end, you will have learned how to hold steadfast to the faithfulness of God and never let go.
While I'm adjusting to this "new" life, I also adjusting back to "regular" life. "Regular" life consists of classes, homework, friend dynamics, and all the other little things that go with living life at Biola. It's definitely a whirlwind to go from being in Argentina two weeks ago to doing "regular" life on Wednesday in La Mirada. But, in Argentina, I learned how to really seek God every morning and fervently pray big prayers, so I'm trying to apply those lessons to my every day life at Biola. I'm super excited to be back and to get the semester rolling. Even after one week of classes, I love all my professors and I'm ready to continue learning and worshiping God through my studying.
Can't wait to continue to share about Biola with you all over the course of this semester! If you have any questions about my trip in particular, or about SMU mission trips in general, don't be afraid to ask!
Until next time,
Jeremy