Doctor Hawking. Doctor Carson. Doctor Zacharias. Doctor Dre. Doctor J.
Dr. Barry Corey.
What do these men have in common? Little. Very little. From a scientist, to a doctor turned politician, to a theologian, to the maker of great headphones, to a famous basketball player, to a president at a remarkable university, the only similarity between these men is that they all have incredibly cool names. What makes them cool? Clearly, it is the esteemed title of "Dr." For anyone out there wondering if they would ever want to go get their doctorate, do it. There are sacrifices ranging from time to money, but the pride of the title you can carry for the rest of your life is worth it. Maybe a Becoming Biola Blogger will be writing about you someday!
We have numerous professors here at Biola with the title "Dr." which makes them cool by default. Our professors here are beloved, but I would argue that no one is more celebrated and loved than our own President Dr. Barry Corey. He has been the president of Biola since 2007. Although Biola was established in 1908, there's no doubt that Biola has made great strides under the leadership of Dr. Corey.
Dr. Barry Corey (known as DBC around campus) is a man of the people. He can be seen around campus giving high fives to students, watching Biola athletics dominate the competition, or even cutting turkey at the Caf! Yes, it's true. DBC served in the Caf before Thanksgiving by carving and passing out turkey at our Thanksgiving meal! His instagram is a small reflection of the love he has for the students here. Many students, including myself, have the goal of making it in one of DBC's famous Instagram selfies during our time here at Biola. I recently was able to check off that Biola bucket list item several weeks ago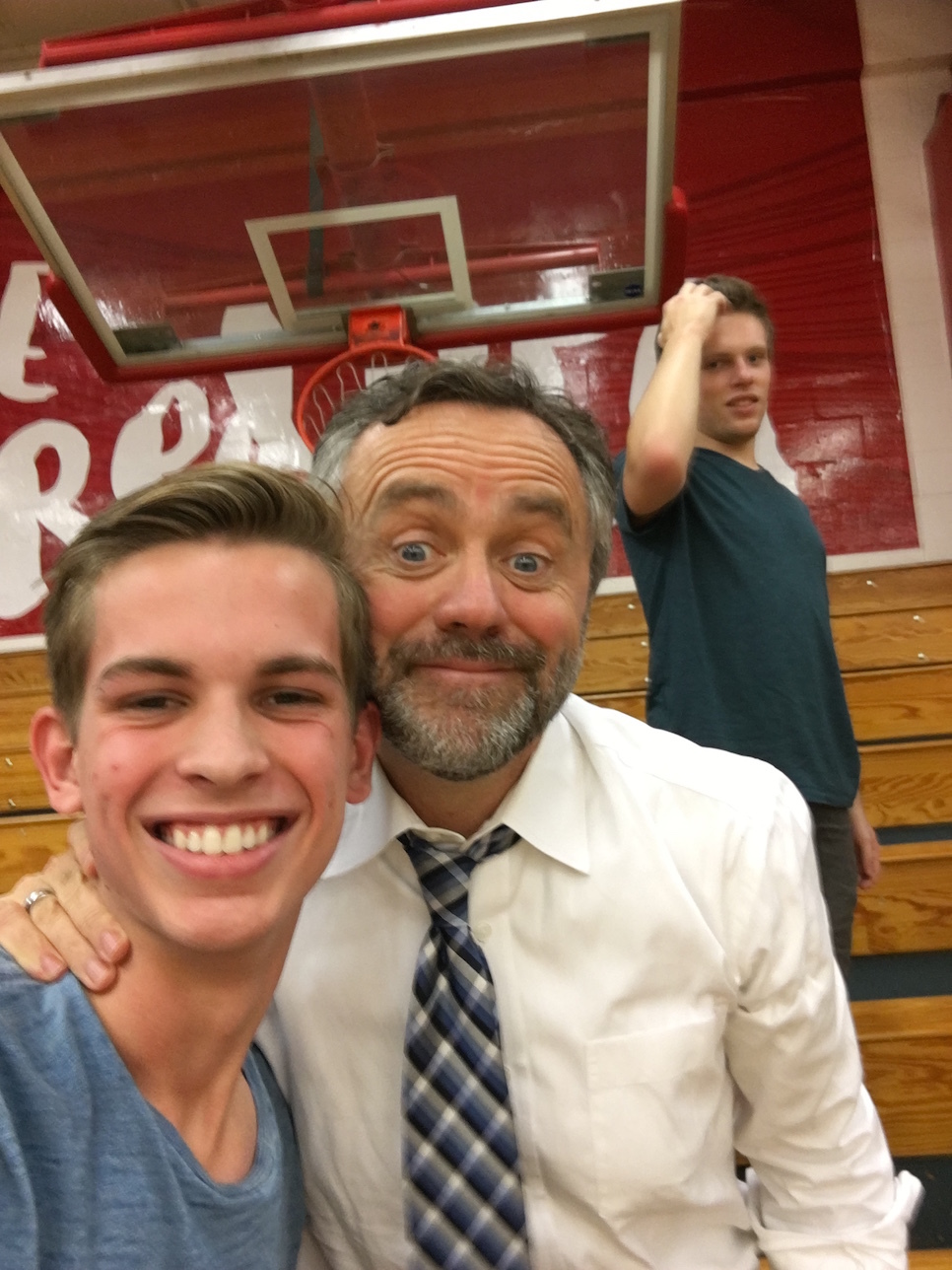 Dr. Corey and his wife invited me to have dinner with him along with several other freshman students. As a group, we had amazing talks from how our first semesters at Biola were going, to the importance of voting in federal and state elections as students, to how DBC and Mrs. DBC met! Although I had always heard how amazing DBC was, it was really cool to see firsthand how much he loves the Lord, cares about students, and thinks about the well being of Biola's future. When you are the leader of a large organization, whether that's a business, ministry or university, it's easy to think more about people as numbers rather than real people with real stories. Dr. Corey is unique in the sense that, as the president of Biola, he goes out of his way to listen and understand the students he tirelessly serves. When we were talking, he was able to recall that my older sister went to Biola after transferring from a large state school in my home state. He asked how my parents (that he has met) were doing and even knew that my sister had just gotten married. That's unique. He not only asks questions to learn from Biola students, but he genuinely gets to know the students and their stories.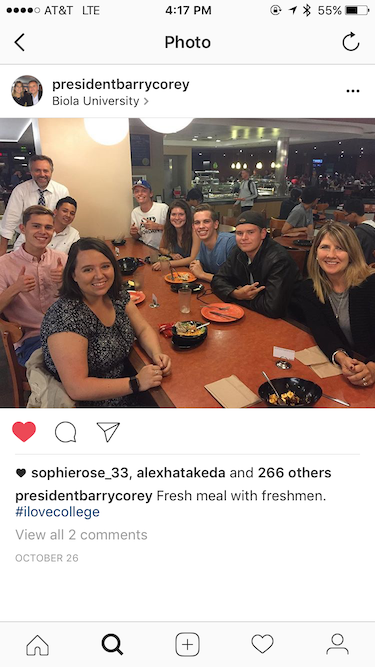 Like any university, Biola will have several challenges in the future, but after meeting Dr. Corey, I feel certain that he will continue to lead Biola in the right direction. Biola will continue to grow and improve while still remaining founded in biblically centered education. As you decide what school you will end up next year, this is something to consider. An organization is largely influenced by its leader, and Dr. Corey is an effective leader because he knows that Jesus is leading him and this university. The future of Biola is bright, and I am excited to be a small part of its story.

Weekly Update
It's been an incredible couple of weeks. I am currently on a flight back to Los Angeles for my final 3 weeks of first semester. That is absolutely incredible and mind blowing. I feel like life just got started here, but I also feel like I've been here for years. It truly does feel like home, but going home for Thanksgiving was very good though. I got to catch up with some of my best friends in the world back home. I ate a lot of home cooked meals and turkey, which was amazing! One of the areas I have grown the most in at Biola is my ping pong game. I used to be very bad, and now I'm able to beat all my friends who would always beat me. Overall, it was a great time of rest with friends and family. Before the break, I also had a GYRAD (pictured below). You can read Jeremy's blog about GYRAD, but, long story short, it's a floor date night. We went to a putt-putt course then In-n-Out –– it was awesome!
Hope you guys are doing well! Personally, I'm excited for what God has for me these last three weeks! If you have any questions about me or Biola, email me at chris.c.middleton@biola.edu.
I know it might feel awkward and weird to email me since there's a good chance I haven't met you, but just go for it! I reached out to the bloggers last year, and they answered a few of my questions. So trust me, I will love it if you email me. Just introduce yourself a little!
Have a great week!