You know what I love? Mexican food. You know what I don't love? Tests. And that is why I absolutely LOVED last Saturday.
As a cross-cultural media emphasis, I take classes offered by the intercultural studies department. One of those classes is called Intercultural Adjustment. It's a class which will help you, as the name suggests, adjust to different cultures. A lot of people who are aspiring missionaries take this class. But a lot of people who are education, business, or journalism majors (like your girl right here) take it too, because even if you plan on never leaving the U.S., we are constantly interacting with people and traditions of different cultures.
This class is known for being a bit unconventional. Every class, we move all 50 desks out into the hallway and sit in a giant circle on the floor. Take last Saturday for example: instead of taking a test, our class was challenged to figure out the LA metro system. We were "assigned" to take the metro into LA and explore Chinatown and Olvera Street. If you're not from the area, Chinatown is to China as Olvera Street is to Mexico. And our only "test" was to talk to people along the way. As we talked to people, our professor told us to be extra conscious of the following question: Is what I'm doing, thinking, or saying building or undermining trust with this person?"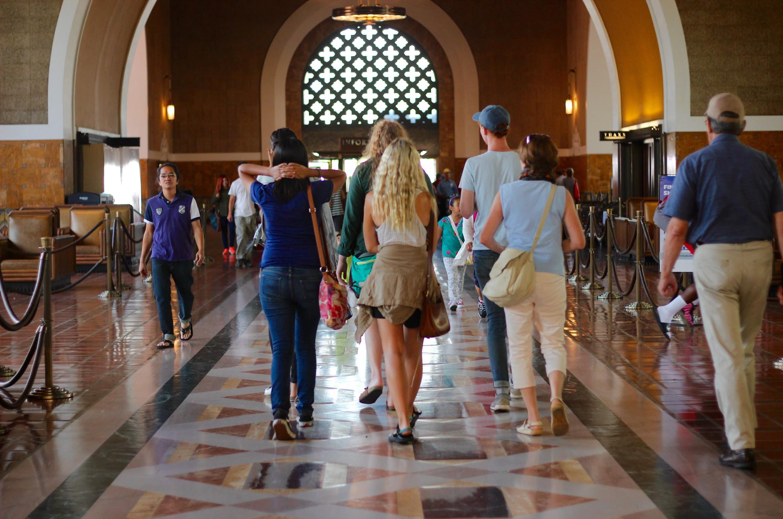 With that mindset and our assignment to break out of our comfort zone, my friends and I were able to get to meet some amazing people who I would have never otherwise gotten to meet.
Two of the people that we got to meet were Armando and Lupe, owners of a leather goods shop on Olvera Street. As soon as my friends and I walked into their shop, we noticed Hillsong worship music playing. My friend, Anna, and I got to talking with Armando about his shop and how it has been owned by his family since the founding of Los Angeles.
While chatting with Armando, I looked over and I saw that my friends, Danielle and James, were praying for Armando's wife, Lupe. Together, they had run that shop for 46 years. They were so grateful for the prayers that they blessed us with free hand-crafted leather bracelets! Armando even engraved our names into them.
I'm beyond grateful to be surrounded by a community with whom praying for people you just met is just what you do. I'm also grateful for Biola's proximity to LA, where we have so many opportunities and so much history to explore. Lastly, I'm grateful for professors that know the value of hands-on experiences and real human connections. Oh, and I'm also grateful for the authentic Mexican food I got while at Olvera Street. So. Good.
Anyways, as always, I love you guys, and I hope your week is going great! If you have any questions about Intercultural Studies classes, life in LA, or literally anything else, let me know! Talk to you soon!