Learning Opportunities
| B.A. in Anthropology
The Anthropology Guild
The Guild is a student-led club that connects you with a learning network of fellow anthropology colleagues and provides you with opportunities to come together and explore various anthropologically oriented activities. There are many benefits to becoming part of this club, including numerous possibilities to:
Participate in your professors' research projects
Attend field trips
Gather regularly in faculty homes
Attend professional meetings to further your training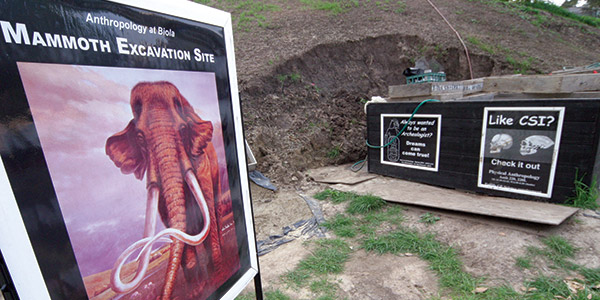 The Biola Columbian Mammoth Site
Adjacent to Biola's baseball field, there is a current archaeology/paleontology site led by Paul Langenwalter, chair and professor of anthropology. As an anthropology major, you will have unique hands-on experience of continuing the excavation and sorting process of the Columbian mammoth parts that have been found on our campus.
Internships
As an anthropology major, you will have access to a number of internship and field opportunities that will provide breadth and depth to your overall learning experience at Biola. Examples include:
Museum internships
Cultural resource management experience
Specialized training in practical fieldwork — at home and abroad
You may also be interested in