Sith Riantawan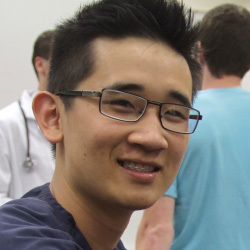 Medical Scribe at Emergency Medicine Scribe Systems
Biological Science, B.S. '12
Q: What do you do as a medical scribe?
I work one-on-one with doctors at one of the various local clinics our company staffs. I accompany the doctor into the examination room and take notes to fully document his or her time with the patient. This increases the time the physician can spend interacting with the patient and increases the quality of the patient's medical record.
Q: Why did you choose to work as a scribe?
Being a scribe is a transition step for me on my way to medical school. Working as a scribe allows me to gain clinical experience in a physician's office as well as increase my knowledge of medical terminology, treatments, and pathophysiology.
Q: What was your most significant experience studying biology at Biola?
Entering spring semester of my junior year, I was seriously questioning my passion for biology and whether I should continue in this field. The Lord used Dr. Lin in physiology that semester to help me regain the passion I once had for medicine and to teach me what it looks like to worship Him through my studies.
Q: What is the Lord teaching you now that you have left college?
God has been reminding me to follow Him, for it is He who promises to direct my paths. I'm confident the Lord wants me to go on this journey of applying to medical schools, but I have many doubts about the future and my specific area of calling. He is teaching me to trust Him, not that He will get me into medical school, but that He will bring me to a far sweeter place than I can imagine.
Q: What is one piece of advice you would give to students who want to enter your field?
Learn to worship the Lord in your studies of science, for worship is much more than singing songs at church. As you study, ask that God will give you the mindset of being a living sacrifice, holy and acceptable to Him.