For information on Biola University's coronavirus (COVID-19) response and updates, visit
biola.edu/coronavirus
.
Lisa Schnittker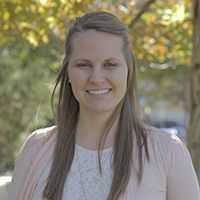 Training Director, National School Project
Intercultural Studies, B.A. '12
Going to Biola, no matter what your degree, will give you a huge opportunity to live your life holistically for Christ no matter what you do.
How did your program at Biola prepare you for your career?
Specifically concerning the ICS program, you will have your eyes open to what is happening in God's kingdom all around the world, giving you a broader perspective not only in your personal relationship with God, but how God is personally relating to every walk of life. It is easy to see only through your own cultural lens, but through the ICS program you start to see how God relates with people both beyond culture and through diversity of culture. I am currently the Training Director for the National School Project, a non-profit committed to seeing every student in America hear the gospel at their public school before they graduate. America is one of the most diverse countries in the world, and if I were to design training based off of only one perspective, culture or cookie-cutter school then we will fail as a ministry. What works at one school might not work at another. We want to see every student hear the gospel, not just the ones who we can best relate to.
What did you appreciate most about your time at Biola?
I appreciate so many things, but one of my highlights were the student-led ministries on campus. Almost all my closest friends were in the National School Project (I didn't join NSP until after I graduated!) and I saw my friends grow like crazy because they were doing ministry while in school, not waiting until after they graduated. I myself had the privilege of being the Short-Term Missions Director for Biola's Student Missionary Union. This immensely prepared me for my current job as I had the chance to train short-term mission teams and I now train anywhere from short-term mission teams to full-time American missionaries. The thing my friends in NSP and my coworkers and I in SMU had in common was that we weren't just gaining head knowledge in our classes, but were also immediately applying that knowledge to the ministries we were part of. Our depth of knowledge was much greater because of this, and I'm so thankful Biola had student-led ministries on campus so this could happen!
How did Biola equip you to be a more faithful follower of Jesus Christ?
Going to Biola, no matter what your degree, will give you a huge opportunity to live your life holistically for Christ no matter what you do. I say opportunity because also you have to choose to want to live a life sold out for Christ. No program can automatically make you a life-long disciple of Jesus. If you want your life to be all about Jesus, Biola is a great place to enhance and help you succeed with that desire.
What advice would you give to students considering your degree program?
Go for it!