Awards
On This Page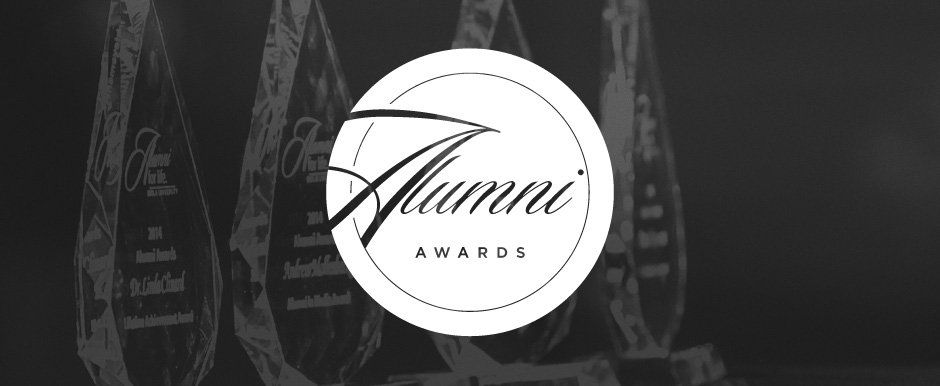 Nominate an outstanding Biolan
Biola takes pride in equipping its graduates with biblically centered education, scholarship, and service so they can impact the world for the Lord Jesus Christ. With these tools, a vast number of the University's alumni have gained unique distinction in their professions, ministries, and communities. It is our pleasure as a university to recognize and celebrate these achievements.
General Eligibility
Candidates must be a graduated alumnus or alumnae of Biola. Married couples/families may be honored jointly as long as one spouse has met the above criteria. Current members of the Alumni Board are not eligible; however, upon the completion of their term of service, they regain eligibility. An individual cannot receive the same award more than once.
Please keep in consideration that we expect all candidates to share the following qualities:
Lives a life that reflects a love for and obedience to Christ and His commands
Embody the mission and values of Biola University
Be a loyal supporter of Biola University
Nomination Process
Complete Nomination Form.
Nomination Process
Complete Nomination Form
Submit a letter of recommendation (1-2 pages) addressing the significant accomplishments that qualify this individual for this award.

Note: Additional endorsement can be submitted for the candidate by e-mailing alumni@biola.edu or mailing to the Alumni Office:

Biola University
Attn: Alumni Relations
13800 Biola Ave
La Mirada, CA 90639
Submit other supporting documents (i.e newspaper/ magazine articles or certificates of an award). Please do not exceed 5 pages total.
Nominations are due December 31, 2016.
Selection Process
After the cutoff date, a comprehensive list of nominees will be submitted to the Office of the President for approval. The expectation is to present 3-5 awards annually with the exception of the lifetime achievement award which will be presented only when merited. The Alumni Board makes the final determination on award recipients.
Awards
Lifetime Achievement Award
(suggested 35+ years since their first-degree completion)
The Lifetime Achievement Award is the highest honor given to an alumnus or alumna of the University. This award is presented in recognition of extraordinary achievements and outstanding demonstration of leadership, responsibility, and expertise in his or her chosen profession. Recipients of this award demonstrate a serious Christian faith through continued support of the Christian community and a servant's heart through service to the surrounding community.
Clyde Cook Missions Award
The Clyde Cook Missions Award is presented for exceptional commitment and service in the mission field. This award recognizes those who have served at least 15 years on the mission field and through their service dramatically influenced the lives of others.
Young Alumnus Award
The Young Alumnus Award is presented for distinct accomplishments beyond what might be expected early in one's career. This award recognizes alumni younger than 35 years old who demonstrate a pursuit of excellence now and into the future.
Cultural Impact Award
The Cultural Impact Award is presented in recognition of outstanding contributions and impact on culture through one's profession, business, industry, government or public service, education, science or technology, or church. These contributions coupled with their character should have dramatically influenced the lives of others in their respective field and in society at large.
Legacy Award
The Legacy Award is presented in recognition of exemplary dedication and service to Biola. This award may be presented for extraordinary partnership over time with the University, or a long lineage (minimum of 3 generations) of Biola alumni. Their partnership with the University is exemplified in a willingness to contribute to its heritage and/or by having made a significant impact on a department or program.
Rosemead School of Psychology Alumni Award
Rosemead School of Psychology takes pride in equipping its graduates with a professional education in Clinical Psychology that prepares them in a unique way to serve Jesus by promoting psychological healing and health. With the knowledge, skills, and attitudes developed and enhanced at Rosemead, our alumni have gained distinction in their professional work as clinicians, researchers, teachers, and ministers. The purpose of the annual Alumni Awards is to recognize and celebrate the achievements of Rosemead School of Psychology's distinguished graduates.
Selection criteria:
Graduated from Rosemead 5 or more years ago
In good standing with Rosemead and the University
Obvious Christian commitment
Evidence of contribution to the profession, public, or church through service, teaching, or scholarship