Veronica Alvarado
Admissions Counselor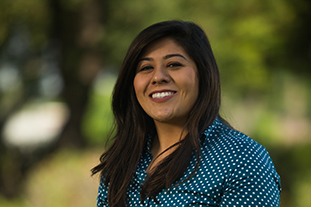 Hi! My name is Veronica and I have the honor and pleasure of journeying with you as your admissions counselor. I am here to serve you and share about Biola's amazing community. Do not hesitate to email me with questions about the admissions process.
Quick Facts
Hometown
Hawthorne, CA
---
Degree
Psychology, Biola University
---
Hobbies
Beach walk-and-talks, lounging around and watching movies, spending time with family and friends, trips to Disneyland for pricey ice cream and corn dogs, and practicing self-care amidst it all.
---
Word or Phrase that Describes Me
Intentional
Get to Know Your Counselor
Who has had the greatest influence on your life?
Definitely my parents. I have been able to experience so much unconditional love and support from them all my life, but I have grown to appreciate it so much more after college. They have taught me what it looks like hold on to your faith in some of the toughest storms of life and have been amazing examples of what it looks like to be still and know that God is sovereign and doing everything for the good of those who love Him.
What was the greatest lesson you learned in college?
Be vulnerable, be honest, allow yourself to make mistakes, and be patient in discovering who you are. Sharing your story is so important in that, too. College is a time to discover a lot more of who you are and what you're called to, but it is so important to let God into that. You were created with a purpose and to glorify God through the unique experiences, talents, personality, and heart that He has given you. Let His grace transform you and let His Spirit do the changing as you obey Him. He will shape you amidst all your experiences, in the good and the bad.
What is your favorite place on campus? Why?
I love to sit at the Fluor Fountain of Faith when I need a moment to think or to rest. Whether I was a student or even now as a counselor, you may find me there sitting with a friend or alone with my journal in hand. If not there, you can find me by the fountain on the ground level of Talbot East doing just the same.
Where do you hang out in Los Angeles?
I grew up and still live in Los Angeles County, so you will always find me hanging out there. I spend a lot of time in the beach cities, Redondo, Hermosa, and Manhattan Beach. You can for sure find me at Urth Caffé in Santa Monica or Downtown Los Angeles. Los Angeles is so big and diverse and there's always something to do here. Whether you want to explore coffee shops, go to the beach, or just explore something outside of what you're used to, you will find it here.