Karol Curiel
Admissions Counselor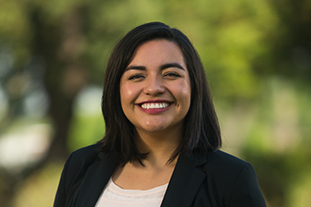 Hello there! Welcome to my page. I am so excited to journey and walk alongside you during this new season of your life.
Quick Facts
Hometown
Los Angeles, CA
---
Degree
Psychology, Biola University; Christian Ministries, Biola University
---
Hobbies
Eating, tweeting, going to the beach, hanging out with friends.
---
Word or Phrase that Describes Me
Extroverted
Get to Know Your Counselor
Who has had the greatest influence on your life?
My late friend Marvin. He definitely shaped and continues to shape the course of my life in ways he never knew.
What was the greatest lesson you learned in college?
There is no shame in asking for help.
What is your favorite place on campus? Why?
The swinging bench in front of Rose Hall. I love how quiet it is there and the fact that it swings. I always go there to pray and to simply sit.
Where do you hang out in Los Angeles?
Downtown, Universal CityWalk, the beach (Santa Monica, Huntington), different food places, and basically all of L.A.