Donald Gordon
Admissions Counselor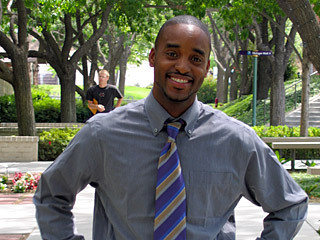 Hey, my name is Donald Gordon. Welcome to my counselor profile!
Quick Facts
Hometown
Pomona, CA
---
Degree
Humanities / Philosophy, Biola University
---
Hobbies
I enjoy sleeping, reading, and playing basketball.
---
Word or Phrase that Describes Me
I would describe myself as personable, motivated, and someone who likes to laugh.
Get to Know Your Counselor
What has your time at Biola taught you?
Biola has taught me that who you are is just as, if not equally, important as what you do.
What was your favorite class in college? Why?
My favorite class was Castles and Kings. My professor was extremely creative and engaging. For our final we took 2 tons of cardboard and built historically accurate castles, dressed like knights and such, and had a huge water balloon castle war.
Who has had the greatest influence on your life?
The person who has influenced me the most would have to be my dad. He has an unbelievable testimony. The Lord has done more than was imaginable for him
What are you passionate about?
I am passionate about loving and serving people as well as I can. I am passionate about teamwork and doing what it takes to see people use their gifts and talents.